My dear Friends,
I know, I know, I'm super late to the party.
But right after I landed in France after six months in South Korea, many many things happened to me. I seriously have n.o. i.d.e.a. of how I actually managed to survive it all.
And right now, I feel mostly exhausted. Not physically, but mentally… I keep feeling like I would start crying at any moment and for whatever reason. And I think this explains why I actually fell off the stairs three days ago and hurt my back. Yeaaah. Silly me.
So, okay, we get it, you're tired, and now your doctor prescribes you to rest at home, so you chill all day every day wearing your favorite pyjamas and pet your cats while drinking lots of tea. We get it. What's the big announcement though?
Well: happy new year everyone ! It's almost the end of January, I know, but I do wish a happy new year to every single one of you. And I felt like sharing some kind of review of my 2018, and some wishes for 2019.
So… shall we proceed? ~
In 2018,
I worked full-time in a big media company for two months. This internship was a /big deal/. I almost dropped out of it because of the entire pressure I put myself onto. What the f- . But it taught me that I can do it, actually. Write articles. That I can be a good journalist, no matter what the worst part of my brain tries to convince me of.
I left my country, on my own. I traveled to the other side of the world. I did /that/. I left behind everybody and everything that couldn't fit in my two luggages. I was scared, but I did it anyway. I thought, « Oh, so this is what independence feels like… » Almost. Because I lived there with a roommate, and we started with a big fight, but then it all got better. And now I can recall many good memories, and I am so happy we actually got the chance to live together and learn from each other. This experience taught me that I should stop judging people I do not know yet, that I should open my heart more willingly to the Unknown. And that is one of the biggest lessons I got from this trip. And I kind of regret the amount of time it took me to realize that.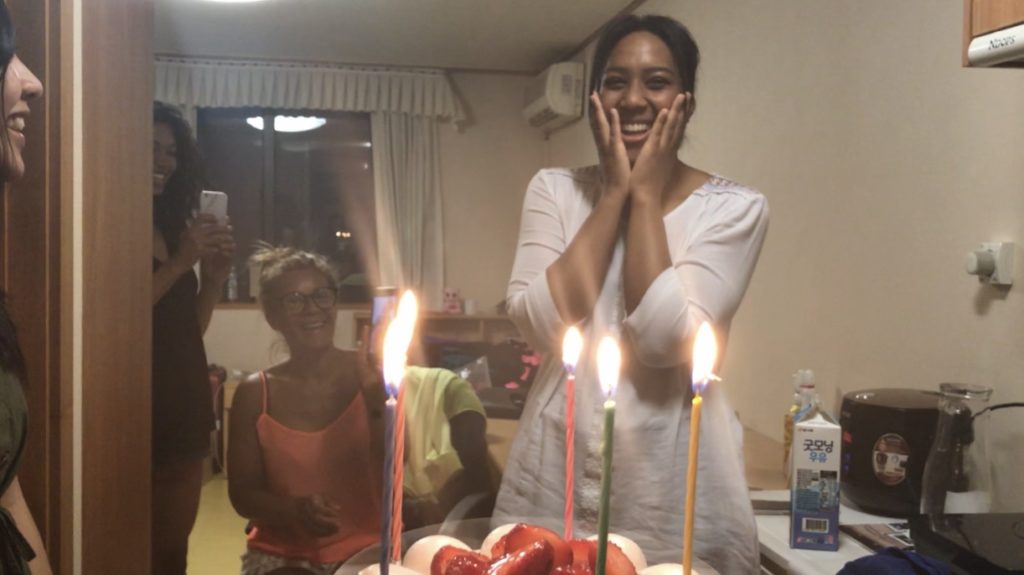 I started studying at Sookmyung Women's University, with all my new classes in English, and surrounded by strangers from various countries. The adjustment was hard, the differences with what I was used to were huge as well, but I've met friends that made my life in Seoul so so cool. I started studying passionately again, and I loved it. It made me remember how valuable education is, and how lucky I am to have access to it all. I connected again with the Hermione Granger that was asleep somewhere in me. It was not about being the best student, at Sookmyung, but learning everything I could and try my best.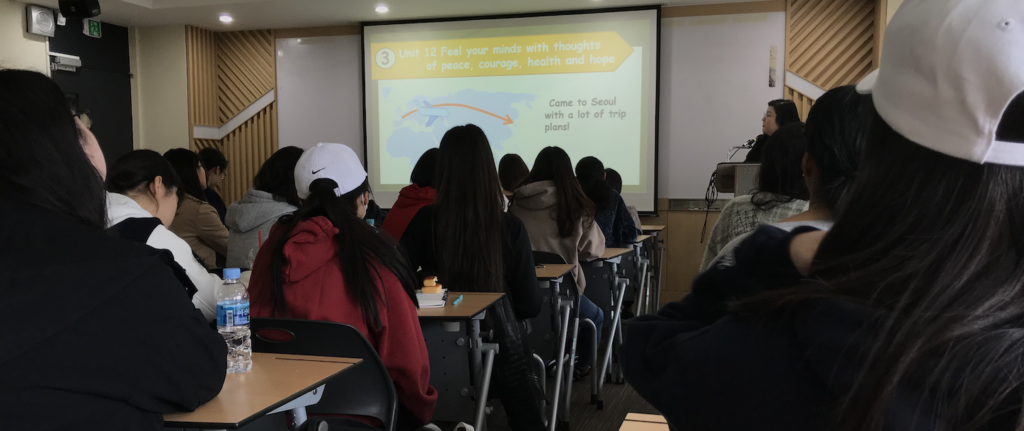 I don't know if it happens to other students abroad, nobody warned me about this before my trip, but… I got into some big fights with my family. The distance was too much, and the news I was giving them, too little. I was happy, back then, being away. I didn't want to connect. I was enjoying being off the grid so much, I wanted to enjoy this selfishness for a bit. Well, I've learnt that you can do it, you should do it if you need to, it's healthy from time to time, but not when your family cares. I eventually opened up the way I never was able to, and I think it changed our relationship for the better.

My sister visited me for two weeks right after school ended, and we traveled to Jeju Island and Busan. But somehow, I felt like I was saying goodbye. To childhood maybe? We got a matching tattoo in Busan. And I will cherish it forever, for it reminds me that no matter what happens to us now, no matter the fights, the distance, the misunderstandings that will inevitably come across in the future, we've shared a past together, an amazing one. We've loved each other. And we should keep doing so. She's my rock, my ally for life.
I enjoyed my friends's company for two weeks in July……… or at least tried to. Long story short: I was depressed, but didn't want to let it show, well it showed, and I got mad, and things happened because they always do, so we shared good and terrible episodes in Seoul together. How/ever. I've learned that a) it's okay to be depressed, and b) others can be depressed too. And sometimes, all you need is lots of makgeolli to drink, a football world cup to win and a cute stranger at a canadian bar to meet, to spend the night forgeting about why you're so upset. (Casually meeting Twice members at the JYP café was the best unexpected bonus, gotta admit.)
I then spend an entire month, alone, in a tiny tiny tiny room in Gangnam, which is kind of far away from where I used to stay (Myeongdong, Itaewon and Hongdae). And that is when my depressed ass decided to do its striking comeback. Congrats on this success, I guess! August was the hottest month ever (don't go to Seoul in August I swear to God you're risking your LIFE), so I literally stayed indoors 6 days a week. On the 7th, I would make myself go out buy some food for the week. I'd attend some concerts too (Epik High, Zico, Loona). It was the biggest shutdown of my life. I cried a lot. Reflected a lot. The reason I'm telling you this is: it helped me. For real. I could regret not being outside back then, enjoying the view more before leaving the country, but I do not. I needed this time to actually come up with all the previous lessons I wrote before. So when I left South Korea on the 20th of August, I was somehow exhausted and sad, but at peace. Kinda.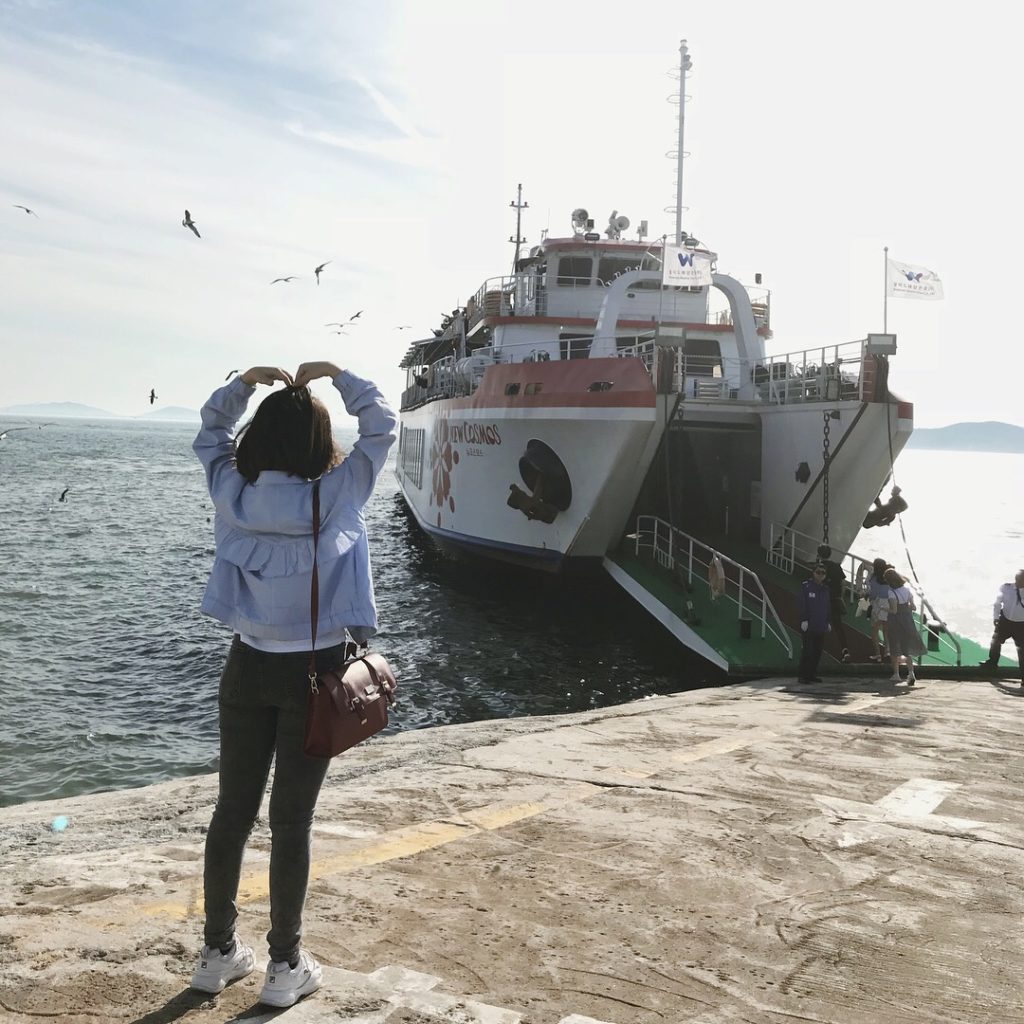 Back in France, I visited my father and his side of the family for a couple of days. There was a nice wedding, and people there were gentle, and the food was good, and I felt home. My father showed me some old tapes of my sister and I when we were little. Time sure flies.

I went back to school. Okay so long story short again: too many group projects, good intentions at the beginning, stress all over the place after a few weeks, met a cutie, literally knew he was trouble when he walked in, put an end to it rather quickly, struggled because of many more projects, had to find an internship, had to fight the final big boss of homework, nailed it, and: boom, that's it, 20th of December, class is over, and it's time to start that said internship. What the heck.
Time. Sure. Flies.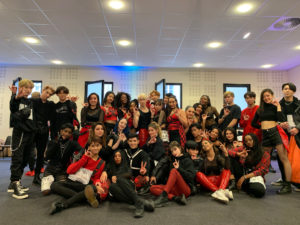 I reunited with the Crew. RISIN' is really something, you guys. After a year of trainings and tests (well six months if you pass on my stay in Korea), I officially became a permanent member the 18th of October 2018. It's a lot of work, but I would never drop out of it. I love dancing with these people so much, being part of the Team is, in itself, a dream-come-true. I'm still adjusting myself to them, they're adjusting to me too, well we're a fifty (!) members group now. It's a big challenge for my shy-and-introverted ass to be part of this crew, but it's an honor, and I believe it will make me grow as a person and as a performer in a good and positive way. Well, it has to.
That internship I wrote about earlier started at the end of the year. Not really a new one because I returned to my previous big-company. But this time, I'm working there until June 2019. Six months of writing news about music, movies, and every other possible culture-related thing. Like K-pop, maybe, who knows? It's fun but it's also a lot of pressure.
Finally, in the middle of aaaaaall this, I also happened to create this blog. I wanted to share many things with the world. Eventually, I let it die a few months later. As I did with many other things, let's be honest. I think the pressure, the tight schedule, the anxiety from it all, were too much for me. That also explains why I've had so many depressing episodes this year.
Soooo here's to 2018. That was a lot. If you made it 'til here, congratulations lmao. Even I, can't believe I wrote it all. See, in 2018, I did push myself, and it was super cool and rewarding, until it became /too much/.
So, dear me…
In 2019,
accept that fear is natural. And so is love. Fear a little less, love a little more. Don't push yourself too much, open your heart more often. To the unknown, to experiences, to others, to the world. Don't assume the bad in everything so promptly.
give your body the attention, love, and respect it deserves. You are unique. Comparing your physical features with those of others will only bring unnecessary frustration. Reconcile yourself with food. Exercise regularly and not out of anxiety nor frustration. And drink. enough. water. It's really important, you stubborn dried potato.
keep in mind that every step is a step forward, so appreciate the efforts, cheer for the next ones and be proud of who you are and where you're at. It takes time to achieve your goals. Try to find happiness in the process. Heaven is all around you already.
remind yourself it does no good to live in the past and you'll go nowhere with « if's ». Your life is what it is now, and you're always only one choice away from changing it all.
I don't have many resolutions. But they feel so important to me right now. I hope to do well and be proud of me when this new year comes to its end. And for the few factual things I need to do before next December, let's say: write wayyy more often on this blog haha, get my diploma HAHA and maybe find myself some haha special someone hahaha because hahaha i love my cats but hahaha you know hahaha loneliness.
:—)
Allow me to conclude this long ass post with this one quote from a man that I respect a lot and look up to ; may it help you just as much as it helps me:
« Maybe I made a mistake yesterday, but yesterday's me is still me. Today, I am all of my faults and my mistakes. Tomorrow, I might be a tiny bit wiser,
and that will be me too.
These faults and mistakes are what I am, making up the brightest stars in the constellation of my life.
Like most people, I've made many and plenty mistakes in my life. I have many faults, and I have many more fears.
But,
I'm gonna embrace myself as hard as I can, and I'm starting to love myself
gradually,
just
little
by
little. »

Kim Namjoon, « RM », leader of BTS.